Non return valves
Non return valves (or ckeck valves) are used in hydraulic systems to stop flow in one direction and allow free flow inthe opposite directiln. Check valves are designed with seats and hence are able to ioslate circuits with no leakage.
Plates, Balls, poppets with soft saels are used as isolating elements.
The dvantage of using a ball as a seal is that it can be prodused economically. The disadvantage is that the ball is deformed a little during operation, that is the seat presses into the ball. As the seat does not always press into the same point, this leads to leakages after a while.
The ball needs to be additionaly conrolled, so that thee seat is not knocked out to true.
Non return valve comprise
housing
hardened piston
seal seat
spring
How does a check valve work
When there is flow through the valve in the direction of the arrow, the poppet is lifted from its seat by the fluid pressure and allows free flow. In the opposite direction, the spring and the fluid push the poppet onto the seat and close the connection.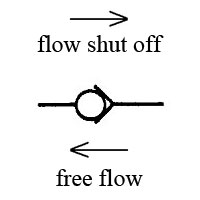 The cracking pressure depends on the spring selected (its compression) and the pressurised poppet surface area, and is generally between 0,5 and 5 bar, dependinding on the application.
Types of non return valves
Sinple non return vlves
Pilot opened check valves
Pre-fill valves
Check valves are used
For by-passing throtting points
For shutting off one direction of flow
As by-pass valves, for example, for by-passing a return line filter when a particular back-pressure has been reached due to contamination
As hoiding valves to create particular backpressuries in circuits